Flag Football - Summer 1 - Tuesdays Flag Football · Co-Ed Super Social (Adult)
Mon
Tue
WedThuFriSatSun
7:00pm to 8:00pm
7v7 Coed Flag Football
Team Fees

Early Bird

50.0

per player + 3.5 Processing Fee

Regular

60.0

per player + 3.5 Processing Fee
Free Agent Fees

Early Bird

50.0

+ 3.5 Processing Fee

Regular

60.0

+ 3.5 Processing Fee

Coed Flag Football League
Fall, 2018!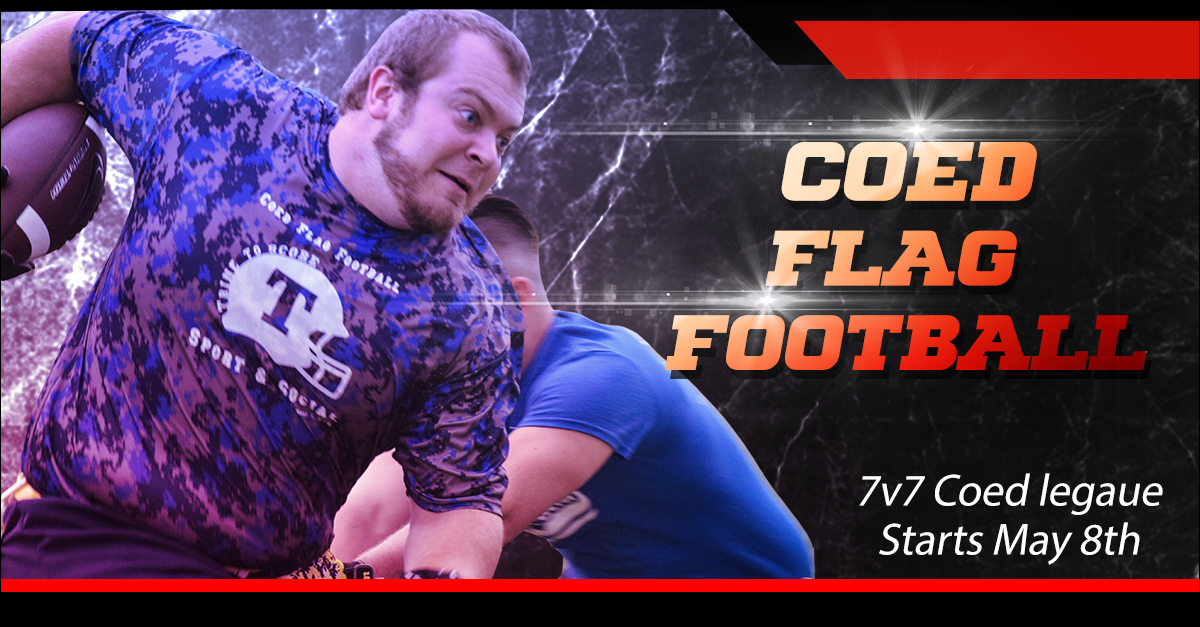 BASICS/ KEY RULES:
7v7; must have at least 3 females on the field at all times. Minimum 5 players (3 girls) needed to avoid forfeit.
TIME: (2) 22-min running halves, with 10 min halftime
o 2 one-minute time outs/team per half. Unused timeouts don't carry over
Kickoff is at the 10 yd line. Re-kick is up to the receiving team if the ball lands out of bounds
Open/closed rule: If a play is male-male then it becomes a closed play and the next play MUST be female-male, female-female, or male-female in order to count as advancing yards. Go over this well!
Only Females can carry (run) the ball over the line of scrimmage
Teams can only earn 2 first downs on any 1 drive. 1 first down is automatically issued for crossing mid-field. 2 completed passes equals a first down.
Blocking: The offensive screen block shall take place without contact. The screen blocker shall have their hands and arms at their side or behind their back. Any use of the arms, elbows or legs to initiate contact during an offensive players screen block is illegal.
In the event of a Blocking or any other penalty issue:
o Have refs resolve it
o inform captains
o Get staff involved if nothing can be resolved
USE SUMMARY OF FOULS PAGE IN THE RULES PACKET FOR EXPLAINING PENALTIES
5-, 10-, and 15-yard lines have been marked on the field for extra points (1, 2, and 3 points)
SCORING:
Touchdown = 6 points if done by male to male
Touchdown = 7 points if done by male to female (or reverse) or female rushing

Touchdown = 8 points of done by a female to female (thrown or caught)
Extra points= 1 pt from 5 yds; 2 pts from 10 yds; 3 pts from 20 yds.
PLAYER REMINDERS:
Standings will be determined based on record, tie breaker are determined via the following order: Head to Head, points given up, and finally total points differential. There will be a playoff the final week of the season to determine the overall standings. The top 2 teams after 6 weeks will play each other in week 7 to determine the overall champion. Teams in 3 & 4 after 6 weeks will play each other in week 7, and so on. This will determine the final standings at the end of the season.
Avoid all contact to the best of their ability to avoid personal fouls. (Results in a 10 yd penalty and a loss of downs/ automatic 1st down.)
Return 10 flag belts hooked onto the lock to a FWSSC staff member at games end.
Go to Sponsor Bar, and above all remember to BE SOCIAL!
---
---
| | |
| --- | --- |
| Links & Downloads | Partnered Bar |
| | O'Sullivans |
The format is simple: After games we all gather at our sponsor bar for exclusive food and drink specials!
Stuff to know
Games will be held at: Swinney Park

Season is 7 weeks long

Teams Consist of 10+ players, 3 of which

Must

be female

7v7 with at least 3 females playing at all times

Games will be played at 7:00 pm, so be on time!
We all meet at Deer Park for some after-game food & drink specials.

If your team is under the 10 player minimum FWSSC staff reserve the right to add free agents to your team

We are a social league so get ready to have some fun and meet people by the hundreds!
---
Full Team NOT needed!
You can register by yourself or with a partner. Our system makes it super easy to join a team or recruit more players to secure a team.
FWSSC keeps you active, introduces you to tons of new friends, and gets you out of the house this Winter!
*All players must be 21 years of age to play*